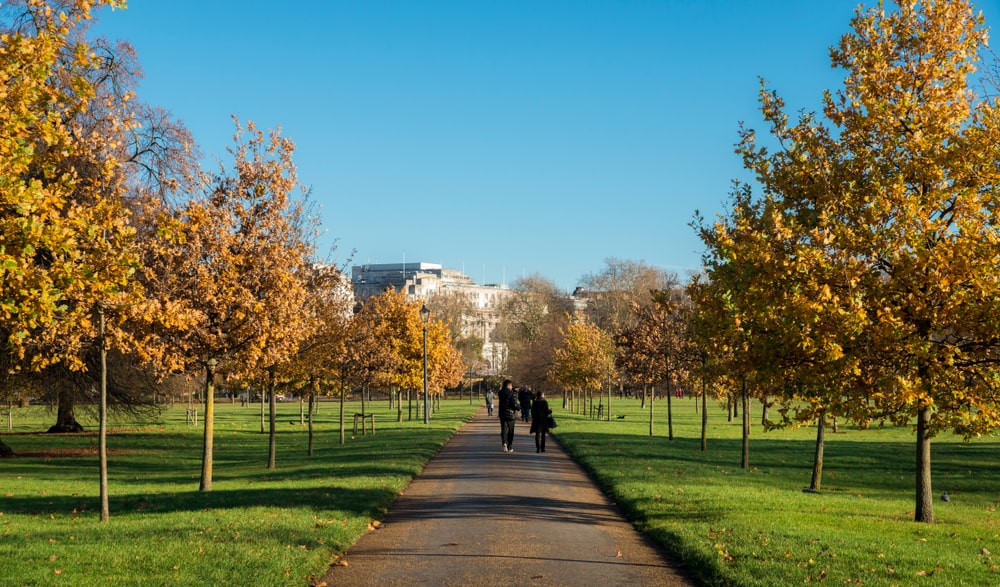 London holds its charm in every season, but it truly comes alive when autumn arrives, and the city turns to shades of burnt oranges and russet reds. A perfect time to explore the city, this is when its lush parks shine the brightest. Seize the opportunity to venture outdoors and discover the capital's tranquil parks adorned with crunchy leaves and conker-strewn paths.
Here's a roundup of the most exquisite London parks close to the opulent Signature Townhouse London Hyde Park, so that you're never too far from a magical and atmospheric autumnal stroll in the city.
Hampstead Heath
Hampstead Heath, with its wild and undulating terrain, is strikingly beautiful during the autumn season with its manicured lawns and flowerbeds. The expansive natural landscape here encompasses woodlands, refreshing swimming ponds, and sprawling meadows with tall grasses that you can delight in while you take a leisurely stroll. Situated in the northern part of London, spanning from Hampstead to Highgate, this scenic park has also served as a rich source of inspiration for several books and movies over the years.
Hyde Park
Hyde Park, sprawling across approximately 1.5 miles in length ranks among London's largest Royal Parks. While you soak in the autumnal beauty of this park, make sure to head to its southern edge, featuring the Serpentine, London's oldest boating lake. With the warm-hued trees adding to this beautiful landscape, you'll also see bird species like ducks, coots, swans, and tufty-headed grebes here. And when you've had your fill of a much-awaited autumn walk in the Royal Hyde Park, don't forget to indulge in a delightful afternoon tea near Hyde Park, while basking in the view of the falling leaves.
Battersea Park
Battersea Park had its royal inauguration performed by Queen Victoria in 1858. Today, not many green spaces in the capital can rival its combination of the perfect Thames River view, an art gallery known as the Pump House, and even a zoo! Take a peaceful walk in Battersea Park and you'll be delighted by its diverse offerings, which add to the autumnal hues of the park. If you're travelling with kids, they are sure to adore this park, from the charming boating lake where you can pedal in paddleboats to the sensory experiences within the walled gardens.
Holland Park
Situated in the Kensington area, minutes away from your exquisite hotel near Hyde Park, you'll find Holland Park. While approximately half of the park is a semi-wild woodland, it is popularly known for its formal gardens, particularly the exquisite Kyoto Gardens. These gardens were graciously presented as a gift from Kyoto in 1991 to celebrate the enduring friendship between Great Britain and Japan. Take a stroll in the park and you're sure to be adorned with the vibrant hues of its autumn foliage, the maple trees with leaves changing colour, a tranquil pond teeming with graceful koi carp and a series of cascading waterfalls.
Whether you're planning a short, two-night stay in London or planning a longer stay in the vibrant city, exploring these picturesque parks, with trees turning to shades of autumn is a must. Don't forget to grab the best hotel deals and pack right for the autumn season in London!