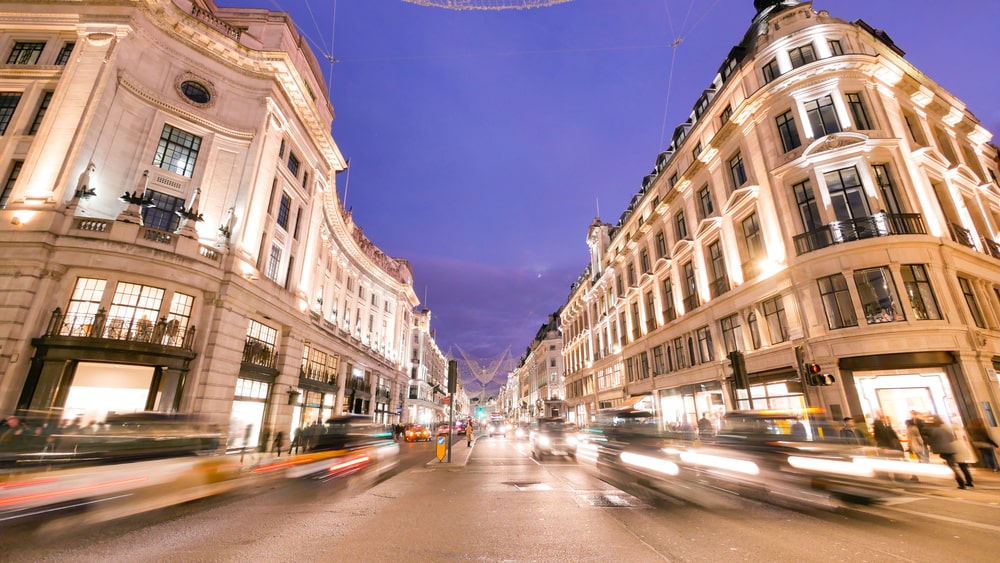 London is known for its alluring streets, representative of the city's rich past and present. From the lively and diverse boulevards of central London to the tranquil, cobblestone pathways of its historic neighbourhoods, London's streets are a significant part of the city's character. So, book your stay at the luxurious Signature Townhouse Hyde Park, located in the heart of the city, and put on your best walking shoes as you prepare to embark on an adventure, exploring one of the world's most vibrant cities with these streets.
Regent Street
London's Regent Street is a premier shopping destination in the city. Named after George, Prince Regent, the illustrious street was designed by John Nash, a well-known architect and urban planner from the early 19th century.
Originally developed as a sophisticated boulevard, Regent Street boasted a grand design, with generous sidewalks. Over the years, it has undergone several renovations and transformations. Nonetheless, several of its historic architectures, including the Regent Street Cinema and the Quadrant Arcade, have endured the test of time and remains to be seen on this street.
Today, Regent Street has evolved into a sought-after tourist destination and a prime shopping destination in London, home to world-class flagship stores, fine dining options, wellness and lifestyle all set against a backdrop of iconic landmarks, including the London Palladium and the prestigious Liberty department store.
Oxford Street
Only moments away from your Hyde Park accommodation, Oxford Street ranks among the busiest shopping destinations in Europe. Known to be the nation's high street, it draws millions of visitors from all over the globe, annually. From firsts to flagships, there are about 300 retail stores to browse through on this dynamic street.
Stretching from Marble Arch to Tottenham Court Road, Oxford Street's historical roots trace back to the Middle Ages when it was known by the name of 'Tyburn Road'. The iconic Selfridges, London's pioneering department store, first opened its doors in 1909, setting the stage for John Lewis and Debenhams, to immerse in a luxurious shopping experience, like never before.
Carnaby Street
Carnaby Street, situated in the heart of London's West End, houses over 100 shops and 60 restaurants, cafes, and bars. Its establishment dates back to the 17th century when it served as a residential enclave, formerly known as "New Road." In the 1950s and 1960s, Carnaby Street was at the centre of the "Swinging London" movement, boasting a lively and vivid fashion scene attracting the city's young fashion enthusiasts. To this day, Carnaby Street offers a diverse shopping experience for all shoppers, showcasing independent boutiques and one-off concepts.
Shaftesbury Avenue
Shaftesbury Avenue, situated in London's vibrant West End, derives its name from Anthony Ashley Cooper, the 7th Earl of Shaftesbury, a philanthropist and social reformer. Notably, the historic Lyric Theatre, which stands to this day, was among the initial theatres to grace this avenue. During the early 20th century, Shaftesbury Avenue evolved into a hub of music and vaudeville performances, making it the "Theatreland" of London. Shaftesbury Avenue retains its reputation as a theatre district, even today and is a favoured destination amongst locals and tourists alike, with iconic landmarks, such as Piccadilly Circus and Chinatown.
London's streets serve as more than just passageways for transportation. They weave together the narratives that reflect the city's diverse culture and rich history. So, plan your London trip right away and don't forget to indulge in a delightful breakfast near Hyde Park, to start your days right and fuel up to explore the vibrant streets of London.